The Fortuna Princess has received her crown – a steel device carrier, the Assea Boat sunbar rollbar, with 3 Solbian SP 118Q solar panels – a theoretical total of 354W. Alessandro from l'Altroporto (in the marina di Pescara) did a very nice job. The panels feed their energy into the 300 Ah AGM service battery via a Victron SmartSolar charge controller. And if you are a nerd like me, you install VictronConnect on your phone an then watch what the system is doing via a bluetooth connection.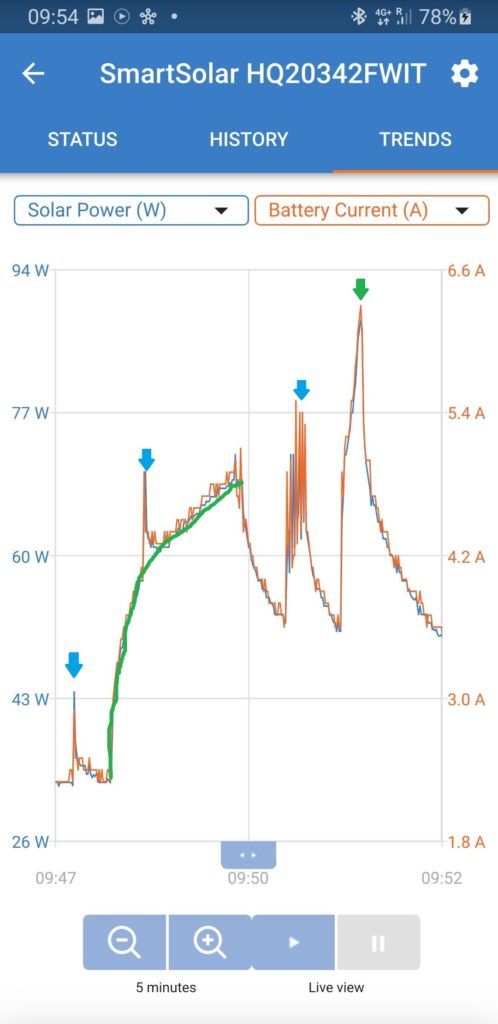 My first tests were towards the end of March. At first there wasn't much to see. But quickly I learned that the controller only starts drawing power from the panels when there is a need. With batteries full, such need arises only when electricity is needed somewhere.
So in this screenshot the blue arrows point to peaks created by running water, i.e. the water pump. The big green line "mountain" is the fridge; the controller acts fast initially, then ramps up the power gradually until the fridge turns off.
The peak on the right with the green arrow is the electric toilet
After having learned that behaviour, I turned off the Mastervolt Chargemaster and opened the 230V circuit breaker for the fridge (thus running it on battery), turned on VHF, AIS and stereo just to put some load on the battery. The service battery stayed at 100% during that spring day, so the solar panels were able to cope with the small loads. The following evening and night ate some 25 Ah from the battery. On the following morning, the charge current slowly ramped up and by lunchtime the batteries were at 100% again.
I will keep monitoring how the panels perform under real life conditions – navigation instruments, autopilot and fridge running during the day.
---